The customer service of MMW is second to none. They were more than happy to answer all my questions and in a timely manner. Stainless steel snorkel is amazing!! Fits the car perfectly!! So so happy :) Highly recommend MMW
Bec Barnewall
I bought a short entry snorkel for my N70 hilux and it is perfect. Craftsmanship is amazing, on time delivery along with all the parts needed to fit this accessory. Absolutely fantastic service from the guys at Meredith metal works and could not be happier with their service!! Couldn't recommend them enough.
Billy Jones
The team at Meredith metalworks are hard to beat! Super stoked to receive my snorkel for my np300. Highly recommend! Quality work! Great value! Great customer service and happy to answer any questions! Super fast postage! Will definitely buy from again :)
Bianca Jayde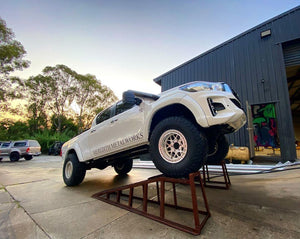 VISION INTO REALITY
We take your vision and make it into reality. Helping to build your pride and joy so that you can enjoy all that the world has to offer. From the Cape of Queensland to the tracks where the only way to be is sideways.
Continue Reading